PRODUCT DESCRIPTION

Lonsdor K518S is a universal key programmer for all brands in Europe, America, Asia and China, also able to work on odometer adjustment for some brands.

Lonsdor k518s key programmer with built-in VW 4th 5th adapter and RFID transponder reader/writer, programming Toyota/Lexus smart keys for all lost keys via OBD and free BMW FEM key programming (for all lost keys, enter 32-digit ISN code) .





Reasons to get Langsduo K518S:


1. Fixed key programming
2. Odometer adjustment
3.Built-in Volkswagen 4th and 5th adapter
4. Built-in chip and remote detection module.
5. Free BMW FEM Key Programming
6.Token is required for all cars

1. The free menu is free for life.
2. Subscribed menus are free to use for the first 1 year. After the trial period, menus are needed to pay for activation.
Renewal subscription fees decrease year by year:
-Lonsdor K518S Full Features First Year Update Subscription---$600
-Lonsdor K518S full-featured second-year update subscription---$450
-Lonsdor K518S full-featured third-year update subscription---$300
The Lonsdor K518S and Lonsdor K518ISE share the same Immo features and vehicle coverage.
MAIN FUNCTIONS:
* Volvo (S40, S60, S80, XC60, XC90, C30, C70, V40, V60, V70) key programming.
*Toyota/Lexus: Smart Key All Keys Lost - Via OBD (no disassembly required)
*BMW CAS3/CAS3+/CAS3++: direct OBD programming
*BMW CAS4/CAS4+: dismantling and reading data programming
*16 - New Maserati: Smart Key Programming
*16 - New Ford: Smart Key Programming
*Hyundai/Kia 46/47/8A Smart Key: Read PIN via OBD, including all lost keys.
*Renault (Megane, Koleos, Scenic): no PIN key programming
*VAG Group 4th and 5th anti-theft systems
*Ferrari (458, F12, F149): direct OBD programming
Peugeot/Citroën: 2 methods of reading PIN and programming, including all lost keys.

用于固定的汽车保险清单:
Europe: Audi, BMW, Mercedes-Benz, Volkswagen, Volvo, Citroen, Ferrari, Maserati, Fiat, Lamborghini, Jaguar, MG,
Land Rover, Bentley, Lancia, Opel, Peugeot, Porsche, DS, Renault, Alfa Romeo, Smart,
Borgward
Americas: Cadillac, Chevrolet, Dodge, GMC, Buick, Hummer, Ford, Jeep, Lincoln, Mercury
Asia: Honda, Hyundai, Isuzu, Kia, Lexus, Mazda, Mitsubishi, Nissan, Ssangyong, Subaru, Suzuki, Toyota, Queen Shioka
China: Iveco, Trumpchi, BYD, Geely, Chery, Great Wall, Youth Lotus (basically all Chinese cars including models)
Note: K518S is still being rapidly upgraded, and more features will be released soon. Please refer to the Lonsodr website: www.lonsdor.com, or you can "update" the latest version with one click.

2.WIFI networking makes software upgrade more convenient.

7.Lonsdor K518S can program Toyota/Lexus smart keys by working with additional LKE smart key simulator 5-in-1 (optional), all keys lost via OBD
The Lonsdor menu is divided into two parts:
The FREE menu (black in the list) , the subscription menu (red in the list).

K518S FEATURES:
1. Operating system: Android

3. Need to plug in the memory card or connect to the computer with a data cable. Online upgrade, update and activation are more flexible.
4. With USB-B2.0 standard connector, the OBD-II test cable integrates an adapter with diagnostic connector function.
5. Functioning speed is greatly accelerated, work efficiency is improved, and time is saved.

6.7-inch high-brightness, high-definition color IPS capacitive screen

7.3800mAh polymer battery

8. Support external memory expansion, preferably within 32G

9. Built-in professional and powerful operating assistance system

10. Available languages: English

Instructions for K518S programming function:
Before using the device, please pay attention to the following functional descriptions:
1. Immobilization: immobilizer system diagnosis
2.Odometer adjustment: mileage diagnosis and correction
3.Hardware testing: test if the hardware can function well
4.Adapter: after dismantling, diagnose certain car models
5.Setting: set up basic device information
6.Update firmware: adapter firmware upgrade & update (connect KPROG adapter
7.with OBD test cable and connect K518ISE with 12V power supply)
8.One key upgrade: click to update to the latest system data
9.Shutdown - turn off the device
Lonsdor K518S main unit outlook: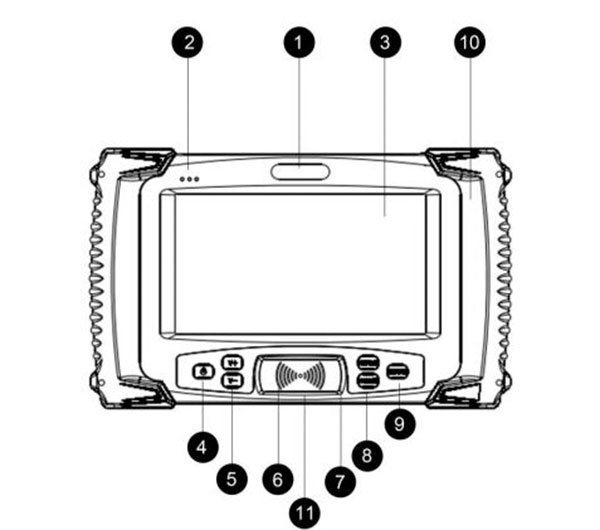 1. Trademark: Lonsdor
2. Three-color indicator in turn will be: red - external power supply; blue - system power;
yellow - communication status
3. Capacitive touch screen: display and touch operation function. 4. Switch: press and hold for 3s to start. When in start state, press and hold for 3s to restart
or shutdown, for 10s to force to restart. 5. Volume: adjust volume size
6. Key frequency & chip recognition system: place the key on the surface to detect
frequency, push the slot shell to the right and put the key inside to detect chip
7. Setting: enter to set
8. Home: home page interface
9. Return: back to previous step
10. Built-in antenna: antenna inside
11. Model: K518s
Screen shot: press power button and volume down button together
Main interface: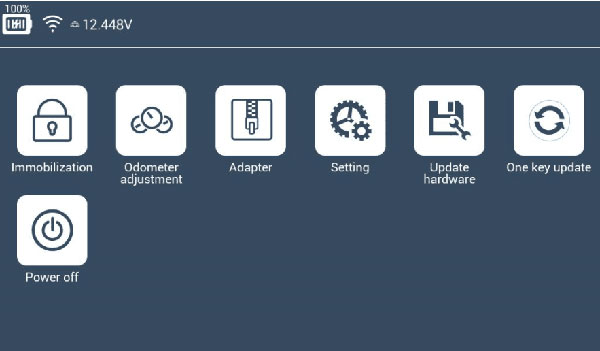 Immobilization interface: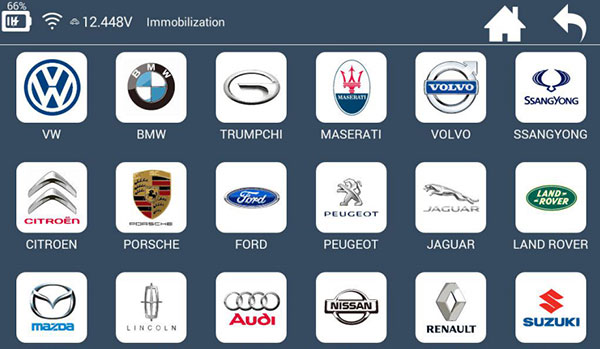 Odometer adjustment
interface: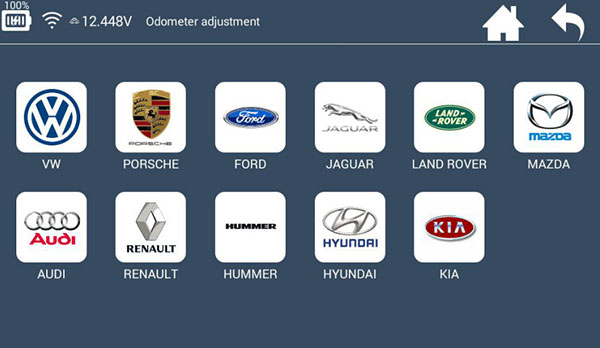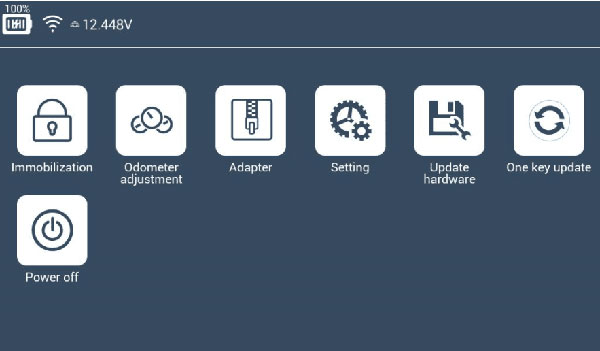 K518S Key Programmer
Technical Parameter:
RFID Support: 125KHz ASK;
134.2KHz FSK
Battery capacity :3800mAh
CPU:ARM Cortex-A7 Quad-core
Processor Speed 1.34GHZ
Power supply :DC12V 1A
WIFI communication distance :10m
Power port:5.5x2.1mm
Display:1024x600, 7 inch IPS
capacitive screen
OBD port: OBD-II
Memory :eMMC 8G RAM 1G
Comm port: USB2.0-type B
OBDII protocols: ISO15765, ISO9141, ISO14230, SAEJ1850, KW1281, VW TP1.6 TP2.0 etc.
KPROG: support programming MCU and EEPROM on ECU circuit board.
1 x Londor K518 S User Manual
Please register and login at first.
Once you finish shopping, all the items you wish to purchase are added to your basket. Your next step will be to go through the checkout process and make payment. Please do as follows.
(1)Click the "Add to Cart" button of all the products you need.
(2)Click the "Cart" button at the top of top right corner.
(3)Confirmed the products you choose and press "Check Out" button.
(4)Fill in your Shipping Address, Shipping Method and Payment Method, then press "Next" button.
(5)Confirm all the information again and press "Submit" button.
(6)Complete the payment checkout procedure using your preferred payment method.
(7)we will send you a confirmation email with all the details within 24 hours (except holidays)
You may compete your payment through HSBC Bank, Western Union, Paypal, Money Gram, National Australia Bank, Bank of China, Bangkok Bank, Sigue or Alipay. Please see the details in our payment options.
Our price is variable according to your purchasing amount or promotional activity. Prices may be changed when service representative email Shipment Confirmation to you.
Unless there are obvious mistakes, the price of the Products is subject to that indicated on this website. Although we make our best endeavor to make sure the accuracy of the price, errors may occur. If we found that the Products you ordered are with a wrong price, we will inform you as soon as possible. After being informed, you are entitled to re-confirm the correct price or cancel your order. If we cannot reach you, your order will be deemed as cancelled. Your payment will be fully refunded.
1.RETURN AND EXCHANGE POLICY
You have 15 days from the receipt date to return your purchase from Hua Shi Locksmith House.
Please acknowledge that you should undertake the freight cost if it is personal preference issues.
If your original order qualified for free shipping, you may be issued a full refund less our original shipping costs.
We will accept your application of return under the following conditions:
(1) Products returned shall be in good conditions, i.e. the Products you returned shall be able to maintain its original quality and function; and the Products itself, together with its accessories, tags and logos are intact;
(2) Products returned are in the same status as you received it (for cosmetics and fragrances, the disposable sealed packaging shall be unopened), and will not affect its second sale;
(3) Unless otherwise indicated, gifts, coupons, vouchers and discount etc. shall be returned together with the Products;
Please exercise reasonable care while you are in possession of the Products. If your use of the Products has exceeded the needs for inspection and confirmation of its quality and function, which caused the value of the Products are depreciated, for instance, the Products are dirty or damaged, we will reject your return.
2.RETURN METHOD
You may contact a service representative of Hua Shi Locksmith House to assist you with product return.
3.RETURN OF DEFECTIVE PRODUCTS
In circumstances where you consider that the Product are defective, please contact a service representative promptly with details of the Product and its damages. In addition, you could also contact us by sabine@lockpick.me to receive return instructions. Defective products will be refunded or exchange.
4.DAMAGE IN SHIPMENT
Please examine your order immediately upon receipt for any damage. All instruments and accessories are examined and verified to be in perfect condition when packed. All packaging is according to the standards of the prevailing carrier. Regardless of the appearance of the carton, any instrument

and accessories

received in a damaged condition has occurred while in transit, must be reported at once to the carrier.
If your order was shipped via DHL, please contact your local DHL office immediately. Please retain the carton, packaging, and damaged contents for DHL inspection. Then contact your service representative of Hua Shi Locksmith House to assist you with product replacement. All claims must be filed within 5 days after the receipt of order.
Please follow the above instructions, as they are for your protection.