产品描述

Lonsdor K518S是欧洲,美洲,亚洲和中国所有品牌的通用钥匙编程器,也可以对某些品牌进行里程表调整。Lonsdor k518s钥匙编程器内置大众4th 5th适配器和RFID应答器阅读器/写入器,编程丰田/雷克萨斯智能钥匙所有钥匙丢失通过OBD和免费宝马FEM钥匙编程(对于所有钥匙丢失,输入32位ISN代码)。




获得朗斯多K518S的主要原因:

2. 里程表调整

3.内置大众4th和5th适配器

4.内置芯片和远程检测模块。

5. 免费宝马有限元密钥编程

6.No 所有汽车都需要令牌

7.Lonsdor K518S可以通过与额外的LKE智能钥匙模拟器5合1(可选)一起工作,对丰田/雷克萨斯智能钥匙进行编程,所有钥匙通过OBD丢失



Lonsdor 菜单分为两部分:免费菜单(列表中的黑色)和订阅菜单(列表中的红色)。
2.订阅的菜单可免费使用1年
。您需要在试用期后付费
-
隆斯多K518S全功能第一年更新订阅
---600美元
-
隆斯多K518S全功能第二年更新订阅
---450美元
-
隆斯多K518S全功能第三年更新订阅
---300美元
Lonsdor K518S和Lonsdor K518ISE共享相同的Immo功能和车辆覆盖范围。
*沃尔沃(S40,S60,S80,XC60,XC90,C30,C70,V40,V60,V70)键编程。
*丰田/雷克萨斯:智能钥匙所有钥匙丢失 - 通过OBD(无需拆卸)
*宝马CAS3/CAS3+/CAS3++:直接OBD编程
*现代/起亚 46/47/8A 智能钥匙:通过 OBD 读取 PIN 码,包括所有丢失的钥匙。
*雷诺(梅甘娜,科莱奥斯,风景)没有PIN码密钥编程
*法拉利(458,F12,F149):直接OBD编程
标致/雪铁龙:两种读取PIN码和编程的方法,包括所有丢失的钥匙。
欧洲:
奥迪、宝马、奔驰、大众、沃尔沃、雪铁龙、法拉利、玛莎拉蒂、菲亚特、兰博基尼、捷豹、名爵、
路虎,宾利,蓝旗亚,欧宝,标致,保时捷,DS,雷诺,阿尔法罗密欧,智能,
美洲:
凯迪拉克、雪佛兰、道奇、GMC、别克、悍马、福特、吉普、林肯、水星
亚洲:
本田、现代、五十铃、起亚、雷克萨斯、马自达、三菱、日产、双龙、斯巴鲁、铃木、
中国:
依维柯、传祺、比亚迪、吉利、奇瑞、长城、青年莲花(基本上都是中国车
大众、保时捷、福特、捷豹、路虎、马自达、奥迪、雷诺、悍马、现代、起亚...
注:
K518S还在快速升级中,更多功能即将发布,请参考Lonsodr网站:www.lonsdor.com,也可以自行"一键更新"最新版本。
1.操作系统:基于安卓
2.WIFI组网,软件升级更方便。
3.No 需要插上存储卡,或者用数据线连接电脑,在线升级、更新和激活更灵活。
4.带USB-B2.0标准连接器,OBD-II测试电缆集成了诊断连接器功能的适配器。
5.速度大大加快,工作效率提高,更省时。
6.7英寸高亮度,高清彩色IPS电容屏
7.3800mAh聚合物电池
8.支持外置内存扩展,32G以内更好
9.内置专业、强大的操作辅助系统
K518S按键编程器功能说明:
1. Immobilization: immobilizer system diagnosis
2.Odometer adjustment: mileage diagnosis and correction
3.Hardware testing: test if the hardware can function well
4.Adapter: after dismantling, diagnose certain car models
5.Setting: set up basic device information
6.Update firmware: adapter firmware upgrade & update (connect KPROG adapter
7.with OBD test cable and connect K518ISE with 12V power supply)
8.One key upgrade: click to update to the latest system data
9.Shutdown - turn off the device
Lonsdor K518S main unit outlook: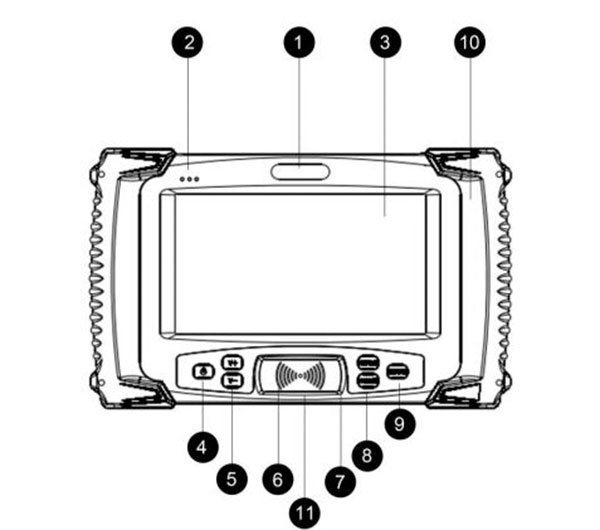 1. Trademark: Lonsdor
2. Three-color indicator in turn will be: red - external power supply; blue - system power;
yellow - communication status
3. Capacitive touch screen: display and touch operation function. 4. Switch: press and hold for 3s to start. When in start state, press and hold for 3s to restart
or shutdown, for 10s to force to restart. 5. Volume: adjust volume size
6. Key frequency & chip recognition system: place the key on the surface to detect
frequency, push the slot shell to the right and put the key inside to detect chip
7. Setting: enter to set
8. Home: home page interface
9. Return: back to previous step
10. Built-in antenna: antenna inside
11. Model: K518s
Screen shot: press power button and volume down button together
Main interface: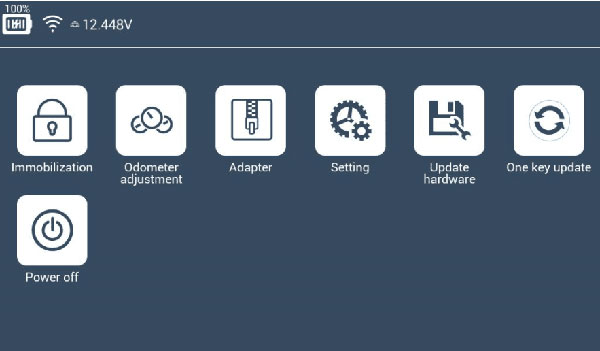 Immobilization interface: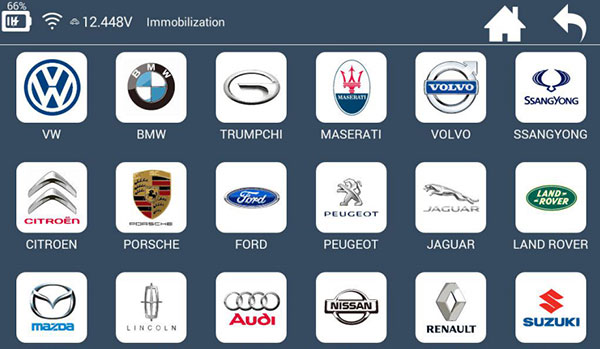 Odometer adjustment
interface: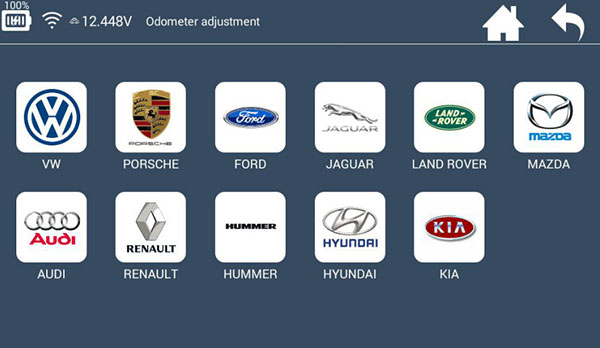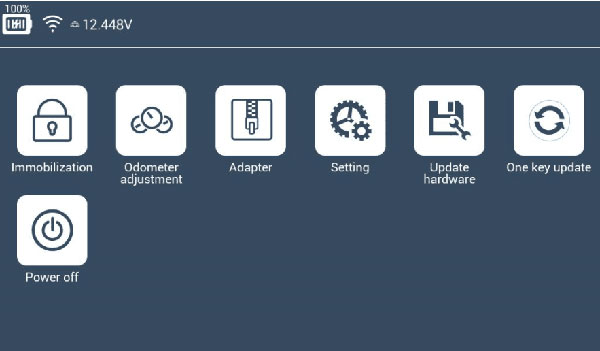 K518S Key Programmer
Technical Parameter:
RFID Support: 125KHz ASK;
134.2KHz FSK
Battery capacity :3800mAh
CPU:ARM Cortex-A7 Quad-core
Processor Speed 1.34GHZ
Power supply :DC12V 1A
WIFI communication distance :10m
Power port:5.5x2.1mm
Display:1024x600, 7 inch IPS
capacitive screen
OBD port: OBD-II
Memory :eMMC 8G RAM 1G
Comm port: USB2.0-type B
OBDII protocols: ISO15765, ISO9141, ISO14230, SAEJ1850, KW1281, VW TP1.6 TP2.0 etc.
KPROG: support programming MCU and EEPROM on ECU circuit board.
1 x Londor K518 S User Manual
Please register and login at first.
Once you finish shopping, all the items you wish to purchase are added to your basket. Your next step will be to go through the checkout process and make payment. Please do as follows.
(1)Click the "Add to Cart" button of all the products you need.
(2)Click the "Cart" button at the top of top right corner.
(3)Confirmed the products you choose and press "Check Out" button.
(4)Fill in your Shipping Address, Shipping Method and Payment Method, then press "Next" button.
(5)Confirm all the information again and press "Submit" button.
(6)Complete the payment checkout procedure using your preferred payment method.
(7)we will send you a confirmation email with all the details within 24 hours (except holidays)
You may compete your payment through HSBC Bank, Western Union, Paypal, Money Gram, National Australia Bank, Bank of China, Bangkok Bank, Sigue or Alipay. Please see the details in our payment options.
Our price is variable according to your purchasing amount or promotional activity. Prices may be changed when service representative email Shipment Confirmation to you.
Unless there are obvious mistakes, the price of the Products is subject to that indicated on this website. Although we make our best endeavor to make sure the accuracy of the price, errors may occur. If we found that the Products you ordered are with a wrong price, we will inform you as soon as possible. After being informed, you are entitled to re-confirm the correct price or cancel your order. If we cannot reach you, your order will be deemed as cancelled. Your payment will be fully refunded.
1.RETURN AND EXCHANGE POLICY
You have 15 days from the receipt date to return your purchase from Hua Shi Locksmith House.
Please acknowledge that you should undertake the freight cost if it is personal preference issues.
If your original order qualified for free shipping, you may be issued a full refund less our original shipping costs.
We will accept your application of return under the following conditions:
(1) Products returned shall be in good conditions, i.e. the Products you returned shall be able to maintain its original quality and function; and the Products itself, together with its accessories, tags and logos are intact;
(2) Products returned are in the same status as you received it (for cosmetics and fragrances, the disposable sealed packaging shall be unopened), and will not affect its second sale;
(3) Unless otherwise indicated, gifts, coupons, vouchers and discount etc. shall be returned together with the Products;
Please exercise reasonable care while you are in possession of the Products. If your use of the Products has exceeded the needs for inspection and confirmation of its quality and function, which caused the value of the Products are depreciated, for instance, the Products are dirty or damaged, we will reject your return.
2.RETURN METHOD
You may contact a service representative of Hua Shi Locksmith House to assist you with product return.
3.RETURN OF DEFECTIVE PRODUCTS
In circumstances where you consider that the Product are defective, please contact a service representative promptly with details of the Product and its damages. In addition, you could also contact us by sabine@lockpick.me to receive return instructions. Defective products will be refunded or exchange.
4.DAMAGE IN SHIPMENT
Please examine your order immediately upon receipt for any damage. All instruments and accessories are examined and verified to be in perfect condition when packed. All packaging is according to the standards of the prevailing carrier. Regardless of the appearance of the carton, any instrument

and accessories

received in a damaged condition has occurred while in transit, must be reported at once to the carrier.
If your order was shipped via DHL, please contact your local DHL office immediately. Please retain the carton, packaging, and damaged contents for DHL inspection. Then contact your service representative of Hua Shi Locksmith House to assist you with product replacement. All claims must be filed within 5 days after the receipt of order.
Please follow the above instructions, as they are for your protection.